A pattern language for microservices
Patterns and pattern languages are very useful tools for making decisions about technology in general, and software architecture in particular. I first gave a version of this talk in 2016, possibly earlier and have given it a few times since then. But as far as I can remember it's been a number of years since I last gave a talk that was focussed on patterns and pattern languages. Here is a revised version of the talk that I gave remotely to the University of São Paulo.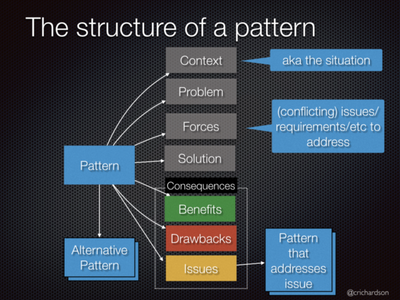 Abstract
The microservice architecture has tremendous benefits. However, it's not a silver bullet and it has some significant drawbacks. The goal of the microservices pattern language is to enable software developers to apply the microservice architecture effectively. It is a collection of patterns that solve architecture, design, development and operational problems. In this talk, I'll provide an overview of the microservice architecture and describe the motivations for the pattern language. You will learn about the key patterns in the pattern language.
Slides
Video
Note: the introduction to the video was not recorded:
Need help adopting microservices?
I provide consulting and training to help you use the microservice architecture effectively.