Online microservices workshops, virtual bootcamps and remote consulting
If you follow me on Twitter or read my blog then you know that I work with clients all over the world. This year I've visited Stockholm, London (twice), and Burlington, NC. And I just returned from a week long engagement in Zurich, Switzerland: a keynote at an internal conference followed by four days of microservices training.
During the trip to Zurich, I had the opportunity to visit Jungfraujoch, which is in the Swiss alps. Here is me at 11,000 feet/3,454m in -6F/-14C weather: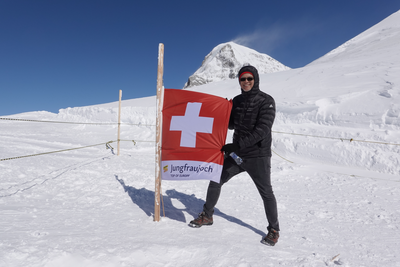 I suspect, however, that because of the Coronavirus pandemic, I won't be traveling for a while. Fortunately I can deliver training workshops and consulting remotely.
I've also accelerated the development of my virtual bootcamps for teams where you learn about the microservice architecture by working on an in-depth example.
Please don't hesitate to contact me to learn more.