Microservices adoption anti-pattern: Red flag law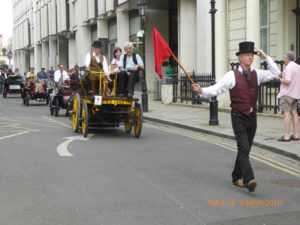 Image from https://www.dedionboutonclub.co.uk
So far in this series I've covered the following anti-patterns
The final anti-pattern in the series is Red Flag Law. The name is taken from the 19th century Red Flag Traffic Laws that were passed in the US and UK. These laws required a pedestrian to walk in front of each automobile waving a red flag to warn the drivers and riders of horses. As a result, the automobile is forced to travel at the same speed as a pedestrian.
I've seen an analogous situation at organizations that adopted the microservice architecture. Despite intending to use microservices to accelerate development, the organization retains the same process and structure that were used when developing monolithic applications. For example, the organization has functional silos, such as separate development and QA teams. It might even have policies that require changes to be pushed to production during a weekend maintenance window.
Consequences
If you don't change your organization's software development process and structure, it's likely that you will not benefit from the microservice architecture. Your legacy process and structure will prevent the microservice architecture from accelerating software delivery. Ultimately, you might even view the migration to microservices as a wasted effort.
A better approach: change everything (incrementally)
In order to fully benefit from the microservice architecture, you must, as described by the success triangle, change your organization's process and structure.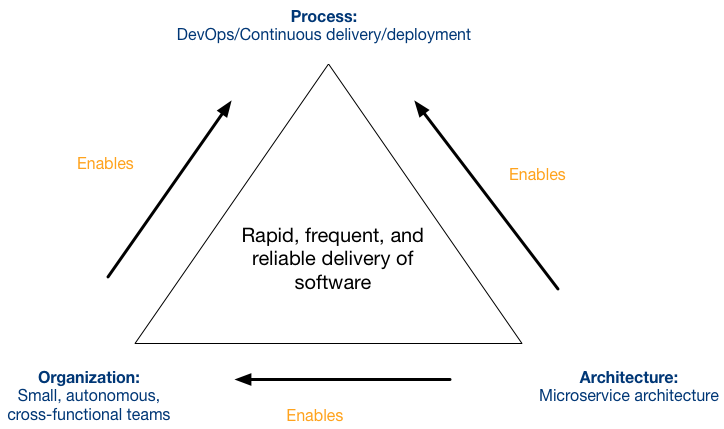 In particular, you must adopt DevOps as your development process. DevOps, which includes continuous delivery and deployment, is a collection of principles and practices for rapidly, frequently and reliably delivering software.
You must also restructure your organization into loosely coupled, cross-functional teams. Each team includes a product owner and has all the skills needed to turn concepts into code running in production. Each team owns one or more services. The teams collaborate through APIs.
You can change your organization's development process and structure incrementally. As you migrate your monolithic application to the microservice architecture, you can create loosely coupled, cross-functional DevOps teams to own the services.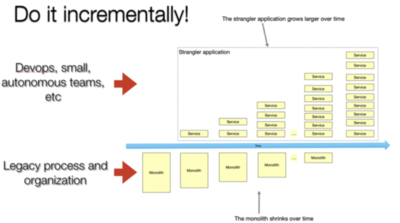 To learn more