microservice architecture
success triangle
devops
team topologies
hexagonal architecture
loose coupling
design-time coupling
---
The geometry of microservices - cubes, hexagons, triangles, and more
One of my favorite talks on the microservice architecture is my JFokus 2020 talk Cubes, Hexagons, Triangles, and More - Understanding Microservices. It uses a series of shapes as visual metaphors to explain key microservice architecture concepts.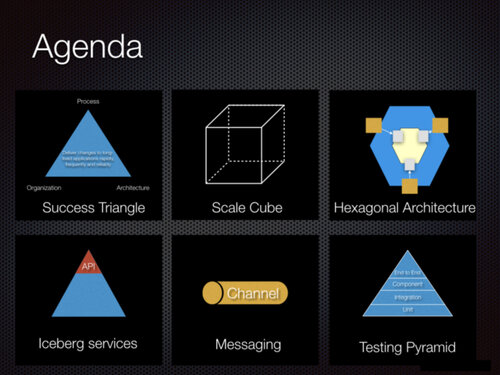 Let's have a look at the first two shapes: the success triangle, which provides the motivation for using microservices, and the scale cube, which defines the microservice architecture.
The success triangle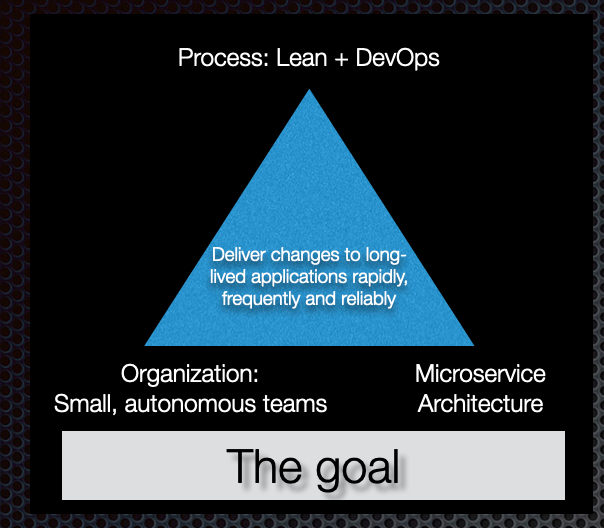 In order to thrive in today's crazy world, businesses need to be more nimble, more agile and innovate faster. And since most modern businesses are powered by software, IT must deliver software rapidly, frequently, and reliably as measured by the DORA metrics.
Delivering software rapidly, frequently, and reliably requires what I call the success triangle. The success triangle consists of the following elements:
---
The scale cube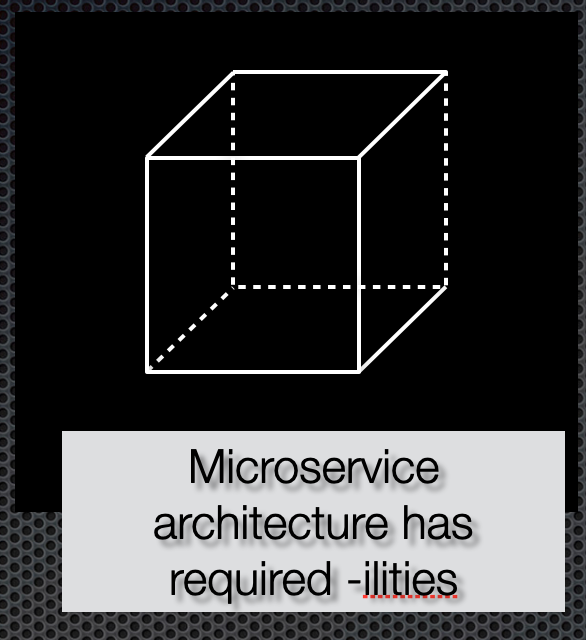 The Monolithic architecture is suitable for many application, especially those that are small and are developed by a small number of teams. However, for larger, more complex applications that are developed by many teams, it's often better to use the Microservice architecture. My definition of the microservice architectures corresponds to Y-axis scaling from AKF Scale Cube, which functionally decomposes an application into services.
---
The hexagonal architecture
The hexagonal architecture, a.k.a. ports and adapters, is a great way to structure a service. Unlike the more traditional layered architecture, the hexagonal architecture puts the business logic at the heart of the service. Inbound adapters that handle requests from the service's clients and outbound adapters which make requests depend on the business logic.
---
Iceberg services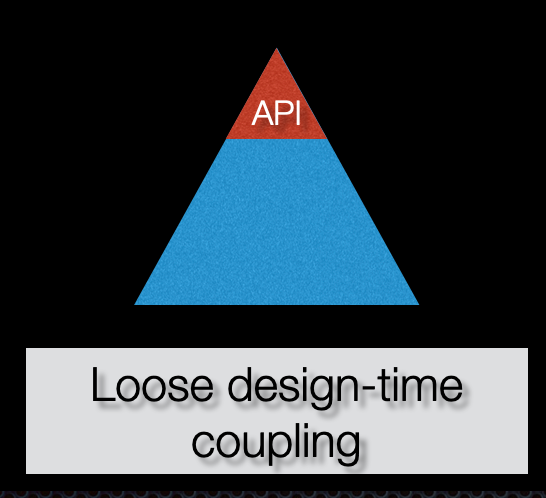 An essential characteristic of the microservice architecture is loose design-time coupling. Services should rarely need to be changed in lockstep. One way to achieve loose design-time coupling is to design services so that they resemble icebergs. The API, which is the visible part of the service, should be much smaller than the invisible implementation. By keeping the implemention hidden, developers can change it without affecting clients.
---
What's next
Over time, I'll add to descriptions of other shapes to this article.
---
microservice architecture
success triangle
devops
team topologies
hexagonal architecture
loose coupling
design-time coupling
---
Copyright © 2023 Chris Richardson • All rights reserved • Supported by
Kong
.