microservices adoption
anti-patterns
---
Microservices adoption antipatterns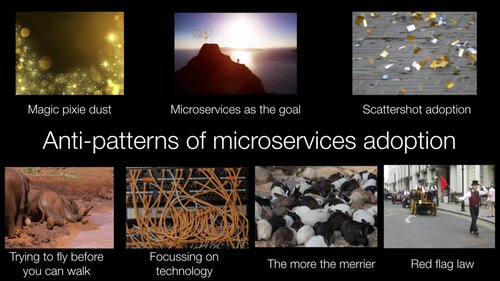 Many enterprise applications are large, complex monoliths that are developed by large teams that struggle to keep up with the needs of the business. Consequently, adopting the microservice architecture is an appealing option. As you might expect, migrating to microservices requires an enterprise to tackle numerous technology related challenges. But enterprises also encounter obstacles that have less to do with technology and more to do with strategy, process, and organization.
I've written series of blog posts about the microservices adoption anti-patterns that I have observed while working with numerous clients around the world. Unlike a regular pattern, which is a (problem, solution) pair, an anti-pattern consists of three elements:
Problem - the problem you are trying to solve, which in the case of microservices adoption is generally how to improve the speed, the frequency and reliability of software delivery
Anti-pattern solution - the solution that doesn't work well
Refactored solution - a better solution to the problem.
Here are the microservices adoption antipatterns:
To learn more
Avoiding the anti-patterns
Talk to me about my microservices consulting and training services including how I can help your organization avoid these anti-patterns by creating a microservices migration roadmap. In particular, I have a Microservices for leaders class
---
microservices adoption
anti-patterns
---
Copyright © 2023 Chris Richardson • All rights reserved • Supported by
Kong
.