Descending the Testing Pyramid: Effective Testing Strategies for Microservices
In September 2019, I gave a talk at Oracle Code One about how to effectively test microservices.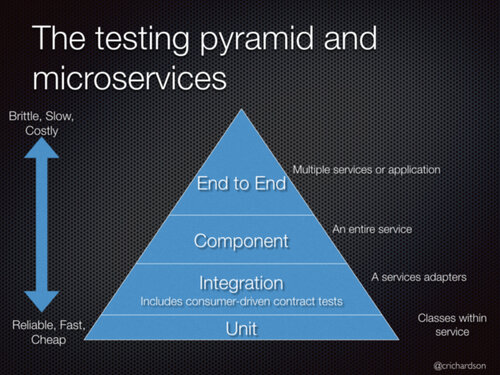 Abstract
The primary goal of the microservice architecture is to enable the rapid, reliable delivery of software with DevOps. One of the pillars of DevOps is automated testing, yet many organizations attempt to adopt microservices while still doing manual testing. What's more, the microservice architecture has its own distinctive automated testing challenges.
This presentation describes how to descend the testing pyramid and replace slow, brittle, end-to-end tests with faster, more reliable tests for individual services. You will learn how to write tests that ensure that service APIs evolve while preserving backward compatibility. You'll learn how, by running these tests in a deployment pipeline, you will fully benefit from microservices.
Slides
To learn more
---